Didn't this league just strike for over a year and cancel a full season? Didn't they implement a salary cap? Aren't their games only on a channel called Versus? Then how does THIS happen:

Ovechkin, Capitals agree to 13-year, $124 million contract extension

I don't care how good this kid is, isn't that a bit much for a league 'supposedly' struggling right now?

WARNING: Knowingly ignoring your unsuccessful past leads to bad decisions:


Leonsis said he was initially skittish about the length of the deal, having been burned by the eight-year, $88 million contract he gave Jaromir Jagr in 2001. The owner noted, however, that other contracts will surpass Ovechkin's in years to come, and that "in 10 years the deal might look really attractive."

MIGHT
. Good luck with that, Ted. In other words: "
While I overpaid like mad TODAY, I know I can count on my peers to take me off the hook by overpaying worse down the road. Where is Glen Sather these days, anyways?
"
I'm not sure what will look more UNattractive in 10 years:
Ovechkin's teeth
or
Ted's waistline
.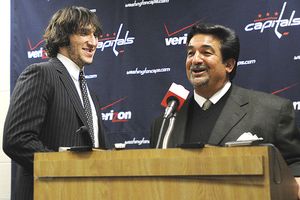 And that concludes our mandated hockey reference of the month.